Powermaster Hydraulic Vertical Lifting Wedge Standard Kit (P/N HVW-10)
Powermaster Hydraulic Vertical Lifting Wedge Standard Kit (P/N HVW-10)
Contact us For Best Pricing

The HVW-10 can be used for :
Lifting Heavy Machinery.
Equipment Installation.
Plant Maintenance.
Equipment Alignment.
Assisting with Toe Jack Access
Special Features:
Access gap of only 3/8"(9.5mm) needed.
3/4"(19.0mm) of vertical lift available from each step.
Max. height of 50mm on 4th step.
Automatic spring return retraction.
Interlocking first step ensures safe hold.
No Slippage due to locking.
Will lift in a straight vertical place.
Operating Benefits
Time / Cost Savings.
Lowest Weight / Lifting Force Ratio.
Precise.
Easy to set up and use.
Safe.
Minimal Maintenance.
Fast for labour & time savings.
Use multiple units for greater lifting.
Standard Kit
1 x Hydraulic Vertical Lifting Wedge Assembly
1 x 10,000 psi (700 Bar) Two Stage Hydraulic Hand Pump
1 x 10,000 psi (700 Bar) Hydraulic Hose Length 6 feet
1 x Safety Block
1 x Stepped Block
1 x Instruction Manual
1 x Carry Case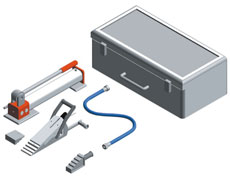 ---
We Also Recommend